PROJECT PROFILE 
Customer: NuGen Johnson, LLC
Industry: Construction – Public Works
Project Location: Milwaukee, WI
Ross Products: ALGRIP® Slip-Resistant Metal Floor Plates
Application: Dedicated Bicycle Lanes over Drawbridges
---
Challenge: Provide Non Skid Permeable Decking to Improve Traction and Control over Grating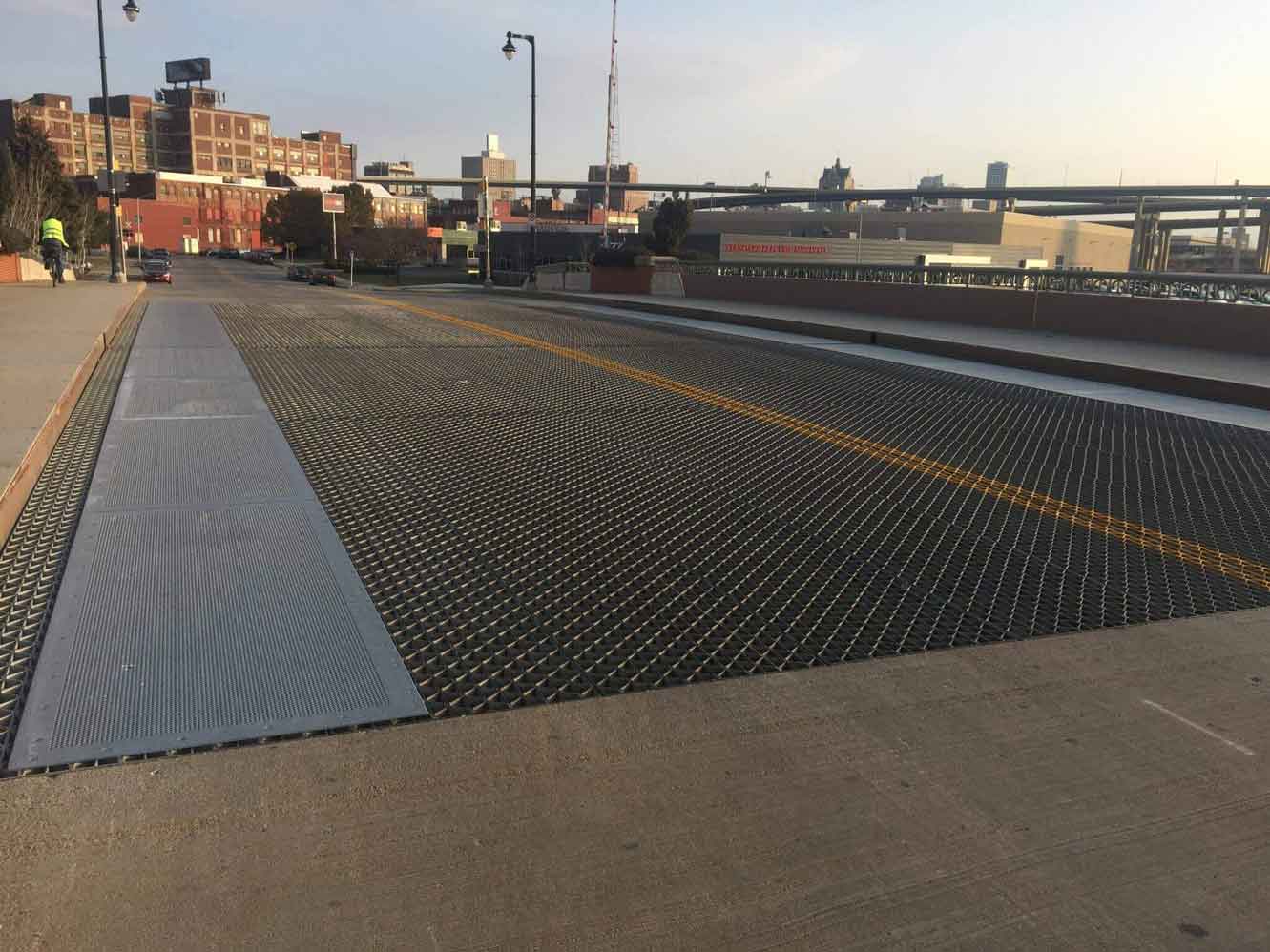 The Plankington Avenue and Emmber Lane Bridges span the Menomonee River in Milwaukee, WI. Built in 1984 and 2000 respectively, both are bascule style bridges designed to accommodate vehicle, bicycle and pedestrian traffic over double leaf roadbeds that swing upwards for boat traffic.
As is the case with many drawbridges in the United States, the Plankington Avenue and Emmber Lane Bridge roadbeds are constructed with open steel grating because it is economical, lightweight and minimizes wind resistance. Grating, however, does present several challenges – it offers low skid resistance, especially when wet, and the open webbing can grab or channel bicycle tires, making it difficult for bikers to maintain control.
Based in Pewaukee, WI, NuGen Johnson was contracted by the City of Milwaukee to design, furnish, and install non slip metal plates over top of the existing grating to establish dedicated lanes of travel for bicycles. In addition to providing a more stable surface and improved traction, the new steel plates also needed to be galvanized for corrosion resistance and perforated to drain water from rain and melting snow.
Solution: ALGRIP Slip Resistant Metal Plates with a Custom Perforation Pattern
NuGen turned to Ross Technology, manufacturer of ALGRIP, because of the product's successful track record with the City of Milwaukee on previous projects. They also liked that ALGRIP's traction-providing surface is applied prior to galvanizing, a feature not available with other slip resistant technologies the company looked into. Given that bridge plates are frequently exposed to rain, snow, and salt, NuGen wanted to avoid as much fabrication after galvanizing as possible to reduce the chances of premature corrosion.
Ross supported NuGen in their efforts to develop a perforation pattern that would meet the project's design specifications while fastening seamlessly and securely to the existing grating. The end design featured ALGRIP's patented laser deposits applied to 3/16" carbon plate with 3/8" diameter holes on 5/8" staggered centers. Each plate included beveled edges and a 4" solid border with countersunk holes around the perimeter to provide a strong and level surface for the fasteners.
Results: Bicycle Safe Lanes for the Long Haul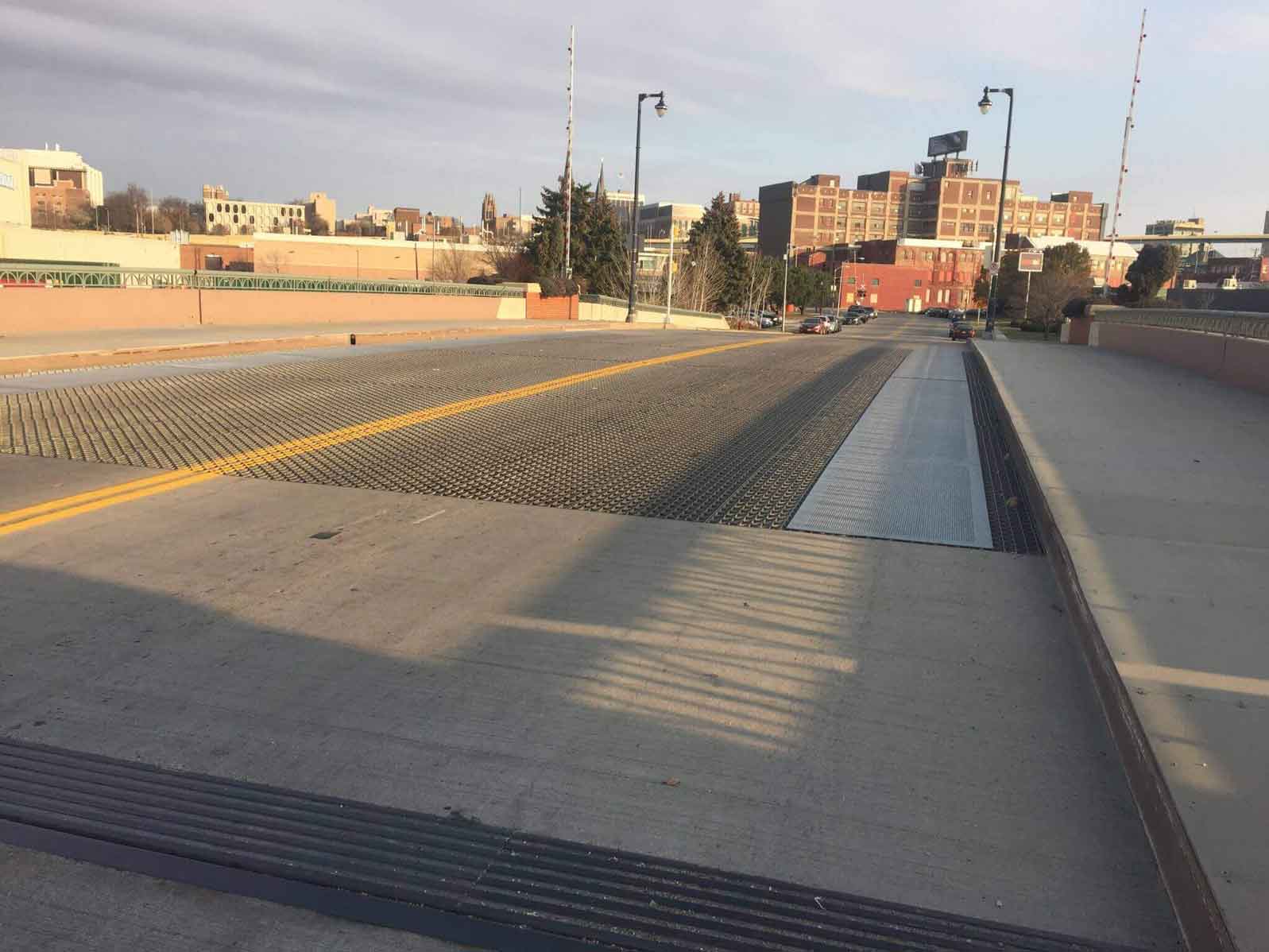 NuGen installed the non slip perforated plates adjacent to the pedestrian walkways in both directions of travel. The scope of work included covering a 118-foot span of the Emmber Lane Bridge and a 129-foot span of the Plankington Avenue Bridge.
Tested to a maximum Coefficient of Friction (COF) of 0.99, ALGRIP technology provides superior slip resistance for Milwaukee cyclists; the new steel plates offer significantly improved stability compared to grating. Because ALGRIP CNC laser welded deposits penetrate deep below the surface of the substrate, the City of Milwaukee now has a durable solution that will last for years to come.
---
About NuGen:  NuGen Johnson, LLC provides specialized construction services targeted towards the Heavy & Industrial Construction Industry along with a diverse range of Civil Consulting & Contracting services. The company has successfully worked with the City of Milwaukee for 6 years on a variety of public works projects, including the conversion of a railroad bridge into a bike trail.
About Ross: Ross Technology manufactures a diverse line of public safety and physical security solutions designed to protect people, property and products in a wide range of applications including slip and fall prevention, anti-terrorism force protection and heavy-duty industrial storage. Based in Leola, Pennsylvania since 1962, the company supports ground-up construction and capital improvement projects throughout the world. Ross specializes in creating solutions that are engineered and tested to meet the highest standards for safety, quality and reliability within their respective fields.