If you're moving into an empty warehouse or are redesigning your warehouse layout, take the time to ensure you come up with the optimal design — one that allows you to store and move materials safely and efficiently, so you can maximize profits and minimize complications. Your warehouse racking is one of the most critical aspects of your design. It determines how your products will be stored, how you'll access them and how you'll navigate the aisles of your storage area.
Table of Contents:
Why the Right Warehouse Layout Is Important
Many warehouses are active places with high rates of inventory turnover. A poorly designed warehouse rapidly becomes chaotic and inefficient, and inefficiency can decrease your revenue. Additionally, a poorly designed warehouse layout creates safety hazards.

The mnemonic FAST is a helpful way to summarize the fundamental requirements of warehouse layout. FAST stands for flow, accessibility, space and throughput. This means an optimal layout for your warehouse design:
Creates efficient, uninterrupted traffic flow patterns
Allows employees to conveniently access products
Makes the most of the physical space
Allows you to keep up with your desired throughput
An ideal layout should also encourage safe navigation and handling of materials. A poorly laid out warehouse will introduce logistical impediments and safety hazards, whereas an optimized warehouse layout will help you improve employee safety and maximize your company's utilization of space and operational resources.
How to Create an Optimized Warehouse Layout

We've broken down the process of creating an optimized warehouse layout into 10 concrete steps.
1. Establish Your Budget
When you're investigating optimized warehouse racking systems, one of the first things to consider is your budget. Your total costs will include both equipment costs and installation costs. Having a custom racking system designed will be an additional cost.
Think of your purchase as an investment. It's better for material handling facilities to pay more upfront for an industrial system that will perform well and last than to find a cheaper alternative that will need to be replaced sooner. If you don't see any off-the-shelf options that are ideal for your warehouse, consider adjusting your budget for a customized system that is optimal for your facility and will meet your safety and performance requirements.
2. Consider Your Unique Needs
In addition to establishing your budget, you also need to establish your unique needs for your racking layout.
Glass sheets, coils, tools and dies, scrap vehicles — all these items make specific demands on a racking system. Consider the shape, size and weight of your products, and make sure you factor in any safety requirements for particular materials like metal coils.
Take the case of one garage door company where their existing racking systems were inadequate for the weight of the inventory. The racking had sustained damage from supporting heavy materials, so employees began storing heavy metal coils on the floor. Existing racking systems were also impractically deep, so employees had trouble reaching materials at the backs of the shelves. And the racks were only two levels high, so the facility was failing to maximize its vertical storage capacity and struggling to organize its extensive inventory of different-colored materials.
An internal assessment concluded that this facility needed taller, shallower, stronger racking systems rated for higher loads, and executives eventually settled on custom-built Dexco® heavy-duty coil racks and wide-span racks to meet the facility's unique requirements.
3. Map Your Warehouse

Next, you need to create a warehouse facility map that includes doors, windows, support columns, loading docks, offices and any other physical features. Determining these parameters is crucial for figuring out a racking layout that is physically feasible and optimally designed for your facility. If you have a blueprint, you can start with this and fill in any missing details.
Mapping your warehouse can help you determine what style of racking system your facility requires. If you have a limited area to work with, for instance, consider choosing a cantilever system, which has a smaller footprint than other systems.
4. Consider Your Flow
Before you can choose your layout, you need to understand your flow. In other words, how much does your inventory move? A busy distribution center has a high flow while a storage facility for excess product often has a low flow, and the distinction may help determine your choice of racking.
You'll also want to consider how you want the traffic patterns in your warehouse to work. The best design will allow workers to navigate your warehouse efficiently and avoid cross-flow interference. If your warehouse involves the use of hand trucks as well as workers on foot, make sure you plan for an aisle width and traffic flows that allow for this.
Consider the case of the tool and die racks in use at the American Dryer Corporation (ADC) when Whirlpool bought that company in 2015. At the old ADC manufacturing facility, an inadequate racking system meant the company could not store all its dies in one place, so press operators regularly had to walk for up to 15 minutes to get the dies they needed. Whirlpool invested in custom racking that was strong enough to accommodate all its dies and allow for a more efficient workflow.
5. Prioritize Safety in Your Design
Consider safety while you are designing your racking layout. As workers move and handle goods, you need them to have a clear and safe path to follow. Using durable structural racking equipment that stores products off the floor is essential for a safe layout.
A safe warehouse layout also comes down to the racking systems themselves. According to the U.S. Occupational Safety and Health Administration (OSHA), five out of every 100 full-time warehouse employees are injured or become ill in the workplace each year. Because unsound racking systems can lead to increased rates of injury, you should choose racking systems that are designed to store your products safely.
Be sure your racking systems are engineered to support the weight of your products. Each shelf of a typical coil and die rack, for example, can safely accommodate between 2,000 and 80,000 pounds, whereas each of the individual rack arms of a standard Dexco cantilever rack can hold weights from 1,000 to 20,000 pounds. If your load requirements are higher, work with an engineering team to custom-design racking that meets your specifications.
6. Choose Your Layout
By now, you should have enough information to create a layout for your warehouse. See if the company you plan to work with can help you plan and provide layout drawings.
In the layout, try to maximize your vertical storage space. Doing so offers several advantages — it frees floor space for work or foot traffic, enhances worker safety, reduces the risk of damage to materials and boosts productivity by making product retrieval more efficient.
When planning to store heavy products like metal coils and tools and dies, facility designers must also ensure that their layouts place structural racks over floors that can support the fully-loaded racks' weight, as well as the potential weight of a crane. Strategizing about structural support often requires a site survey before the design process, so it's helpful to choose a company that can assist with that initial assessment.
7. Test Out the Layout
As with any type of planning, what seems optimal on paper may not always work as well when it's implemented in real life. To avoid this problem, give your plan an imaginary test run. Use masking tape on the floor to mark off racking and other equipment. You can include arrows on the floor to make the intended traffic flow clear.
Once you have marked up your warehouse floor, proceed through the space, following the intended flow for key tasks. Do your best to simulate a standard workday by having employees carry bulky materials or drive forklifts across the warehouse floor. This simulation can help you ensure there is plenty of clearance in your aisles.
As you test your layout, pay attention to the accessibility of your racks in their proposed locations. Cantilevered racking systems are open at each end and lack front columns, offering easy access to products and materials, while other racking systems may require more open space for accessing and maneuvering materials.
8. Choose Your Racking System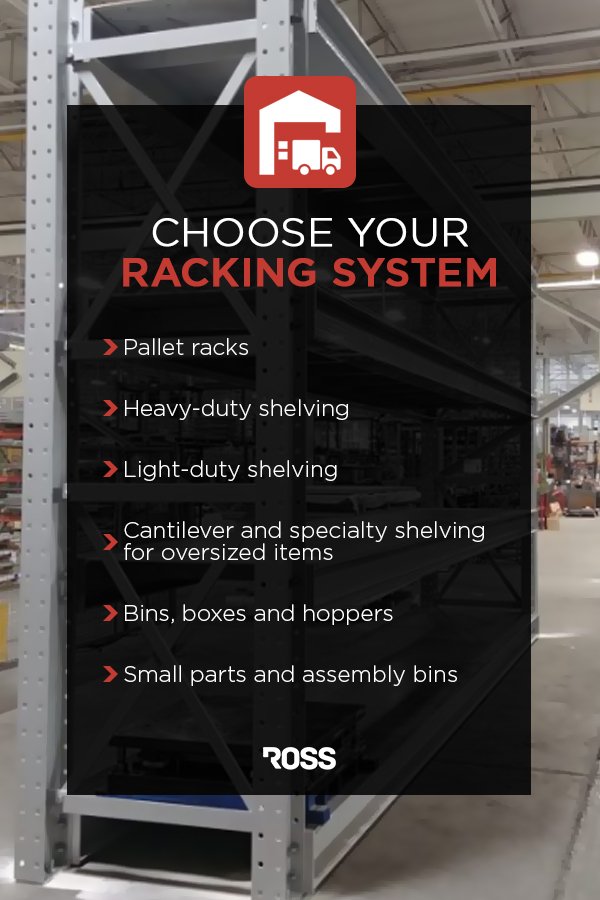 You can now put your plan into action by choosing racking systems for your warehouse. Ross Technology offers six types of racking systems for clients to select from when they need industrial structural I-beam storage:
Pay attention to the manufacturing standards and specifications for any racking systems you're considering so you can choose an option that offers superior quality. In some cases, you may want to have custom racking systems designed for a layout that is optimized for your warehouse.
9. Implement the Racking System
If your racking solutions provider is willing to coordinate installation, you can focus on other aspects of implementation. Just make sure you understand what role your racking solutions provider will play in installation so you can do your part to prepare and assist.
When you are ready to implement your racking system, it helps to have the support of a company that provides end-to-end technical support. At Ross Technology, for example, our services extend beyond our site surveys and the assistance we provide with understanding, choosing and designing racking systems. We also offer support with factory acceptance testing and installation, so the processes of fabricating and integrating a complex racking system into a facility become easier for warehouse managers to navigate.
10. Plan for the Future
In the Whirlpool manufacturing facility described above, Whirlpool planned to begin using new dies with a new press but did not know how large those dies would be. For this reason, as engineers designed and fabricated the new tool and die racks, they planned for unknown sizes of future dies. They built racks with 24-foot single-span shelves instead of using three 8-foot spans — that way, no supports would impede the storage of larger dies. They also used a nuts-and-bolts assembly that would permit adjustment of individual shelf heights as future storage requirements altered.
Ensuring an optimum design upfront will help you continue to operate efficiently and effectively in the future. Of course, your storage needs may change, or you may need to scale your warehouse. Start thinking now about how you could modify or expand your current setup to accommodate future needs.
Superior Racking Systems From Ross Technology
If you need specialty shelving designed to hold heavy or oversized items, you need racking systems engineered specifically for your application. Dexco racking systems from Ross Technology are available in configurations to store materials like lumber, metal coils, piping, dies, bar stock, glass and sheet metal. Storing these types of items can be a challenge, but Dexco racking systems are designed to exceptionally high standards to maximize safety, durability, weight capacity and efficiency.
When you work with Ross, you receive the benefit of assistance in planning your layout, designing your ideal racking system and coordinating your installation. If you have any questions about our industrial racking systems, contact us. Trust our superior craftsmanship and industry expertise as you seek to optimize your warehouse racking layout design.