Once the second-largest steel producer in the world, Bethlehem Steel remains a symbolic reminder of the prosperity, ingenuity and strength of the American worker. Shut down in 1995, the steel-making giant has come to life again, thanks to a revitalization project that transformed the brownfield into a public exhibit.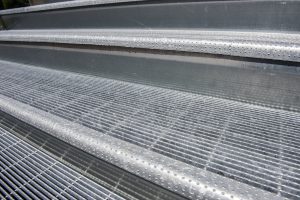 At the heart of the project is a commemorative half-mile walkway named after the original Hoover Mason Trestle rail tracks, which quietly sit nearly 50 feet below. The new trestle serves as a path to the past, as well as a window to the creation of some of our greatest landmarks such as the Golden Gate Bridge and the Hoover Dam.
Ohio Gratings, which worked on the Bethlehem Redevelopment Authority project with Wallace Robert and Todd Architects, manufactured the walkway using grating that included Ross Technology's ALGRIP® slip-resistant surface. ALGRIP's patented CNC laser-welding process applies custom-alloy deposits deep into the metal substrate to provide exceptional traction and unparalleled service life.
In addition to meeting the Americans with Disabilities Act (ADA), Ohio Gratings was challenged by the Redevelopment Authority to meet the following design goals:
Create a durable walkway that supports a maintenance vehicle
Create a surface with open areas to allow visitors to easily view the rail line below
Create a walkway that is considerate to patrons wearing high heels
To address the ADA and durability goals, Ohio Gratings recommended its carbon steel Wheels n' Heels® Metro® product. Also used by Ross for Consolidated Edison's utility grates in New York City, Metro is the first grating product to satisfy both the vehicle loading requirements of the American Association of State Highway and Transportation Officials, as well as the pedestrian requirements of the ADA.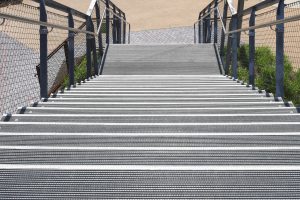 To create an open view, while still protecting high heel wearers, Ohio Gratings varied the grating used on the 8-foot-wide trestle to provide two surface types. One section offered 1/2-inch spacing for an open view to see below, and a second section used a narrow 5/16-inch spacing to accommodate high heels.
When it comes to recommending the proper slip-resistant product, Ken Apperson, Director of Engineering and Product Development for Ohio Gratings, says he's confident in ALGRIP.
"ALGRIP is tried and true in the industry," Ken says. "It performs very well and you don't have to worry about performing maintenance on it. Working with Ross Technology is a great partnership, one that we've had for over 20 years, and the relationship couldn't be closer."